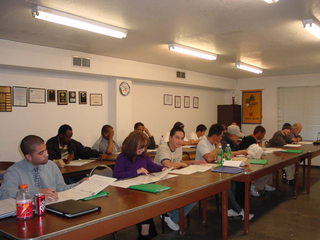 Growth Rate More Than Tripled In The Last Several Years
Pre-Registration Only Limited Seating
For Security Guard Training
Go To The Tab Pre-Evaluation Unarmed Training Tab and Follow The Instructions

Class Schedule For Security Guard Training
Monday & Tuesday: 10A.M - 5P.M.
REGISTER : Email: jr@securityguardcollege.com
Limited Seating- Age Requirement 18 or older with no Felonies
Class Cost For Unarmed Security Guard Training $60.00
Method of payment: Cash, Money Order, Debit Card
Please arrive with tuition, pen, paper and picture I.D. You will register and start class that day.
Require 20-Hour Security Guard Training Course for PERC (Blue Card)
The 20- Hour Security Guard Training Course shall include Security Guard Training classroom instruction. Classroom instruction shall include, but not be limited to the following Security Guard Training subject matter: Age requirement 18 years of age or older for Security Guard Training
The Professional Security Officer

Becoming a Professional Security Officer protecting property

Fire prevention and control

The Legal Basis for security and rights of the security officers

Basic law for the security officer

Crime and the security officer

Control of property and people

Collecting and reporting information
All above Security Guard Training materials will be covered in the course outline and classroom
Train Today------Secure Your Future